I only got into RuPaul's Drag Race during my final year at uni, and since discovering it… it's virtually all I watch. It's absolutely fantastic – like a queer version of America's Next Top Model mashed with Project Runway mashed with, well, any good reality tv show.
I binge-watch the 10 seasons over and over again. Well, psst… I've never watched season 1. It's not on Netflix. Give a girl a break! Although, I do and have watched the All Stars seasons via YouTube and the likes. I'll get round to Season 1… eventually. I just dread that danged hazy – blurry – hue. So, long story short, there are no iconic moments from Season 1 listed here… please do tell me if there are any that would have been worth mentioning though! I'm sure I'll be kicking myself when I get round to watching it.
Anyways, the most iconic moments of Drag Race are no secret and frequently achieve meme status, but I thought I would assemble my favourites into a collection here (in chronological order, not in order of iconicness)…
Also, spoiler alert, duh:
Season 2, Episode 5 – Tatianna – Here Comes the Bride
Sensing tension, RuPaul asked the contestants if there was anything going on backstage that the judges are not seeing and should know about. Tatianna replied: 'I don't think that you are seeing that Tyra is a complete bitch!' Hilarious. Watch Untucked, also.
Season 3, Episode 12 – Tatianna and Raven – Reunion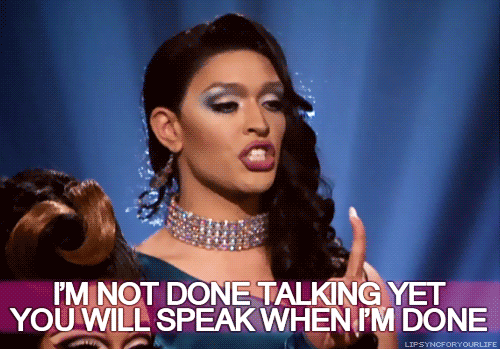 After having watched the show back, Tatianna wasn't all too happy with some of the things Raven had to say about her behind her back. They had an extremely tense back-and-forth about it all on the reunion show, and Tatianna even scolded Raven for interrupting: "I'm not done talking yet, you will speak when I'm done." Ouch.
Season 3, Episode 2 – Shangela – Surprise Twist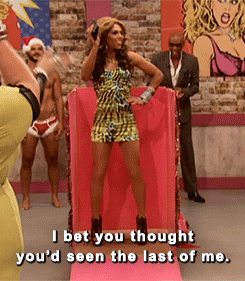 After having been eliminated first in Season 2, Shangela made a surprise return as the 13th contestant for Season 3! And praise Jesus! Halleloo!
Season 3, Episode 3 – Mimi Imfurst and Shangela – Untucked
In a dispute backstage during Untucked, Mimi Imfurst accused Shangela of having a sugar daddy. It did not go down well, resulting in the iconic speech from Shangela: "I don't have a sugar daddy! I've never had a sugar daddy! If I wanted a sugar daddy, yes, I probably could go out and get one. Because, I am what? Sickening! You will never have a sugar daddy because you are not that kind of girl!" Drinks were thrown.
Season 3, Episode 4 – Mimi ImFurst – Lip sync
In a lip sync against India Ferreh, Mimi Imfurst saw that she wasn't doing so well… and decided to lift India up over her shoulder and drag her back onto the stage! Again, Mimi rubbed people up the wrong way, and this did not go down well. The iconic line was born… "Drag is NOT a contact sport!"
Season 4, Episode 1 – Sharon Needles – Rupocalypse
During the Rupocalypse runway challenge where the queens had to create post-apocalyptic looks… Sharon had fake blood capsules in her mouth ready and waiting to burst and drip blood all over her chin. Well, I think it's fake. You never can tell with Needles.
Season 4, Episode 1 – Lashauwn Beyond – Untucked
Untucking after the runway, the queens got into an argument backstage about whether some of the queens had been supportive of their sisters. In a dispute with Jiggly Caliente, Lashauwn Beyond was the first queen in Drag Race history to utter the phrase: "This is not RuPaul's Best Friend Race!" And it has been gospel ever since.
Season 4, Episode 4 – Phi Phi O'Hara and Sharon Needles – In the workroom
The two queens, like chalk and cheese, never did see eye to eye. After a few days of tension, the pair finally blew up into a huge argument where Sharon called Phi Phi a "washed up show girl" followed by this famous retort: "Go back to Party City where you belong!" Us non-US folk were somewhat confused by this… which city is party city? Vegas? But Sharon works in Pittsburgh! Turns out it's a costume shop in the US! Ouch.
Season 4, Episode 4 – Latrice Royale – In the workroom
Latrice Royale  provided little moments of joy in the workroom with her gospel church-esque phrase "Jesus is a biscuit! Let him sop you up!" to which all the queens danced and sang along. And it was made even more iconic following the argument between Phi Phi and Sharon, when after all when silent, Kenya Michaels awkwardly broke the silence with… "Jesus is a biscuit!"
Season 4, Episode 8 – Willam – Disqualification
Willam was disqualified from the show for rule-breaking! The nature of said rule-breaking was never fully and I suspect truthfully disclosed… but, the story goes that Willam had his husband to visit which is against the rules. I suspect there's probably a little more to it. What's more, Willam actually won that week's challenge before being disqualified by Ru. She had also thrown up off the stage! An icon, a legend. A QUEEN.
All Stars 1, Episode 3 – Alexis Mateo – Queens Behaving Badly
I already loved Alexis from season 3, and she confirmed this love during episode 3 of All Stars when she waved at a random Asian passer by and exclaimed "Hi, Manila!"
Kinda not PC, but kinda funny considering the controversy surrounding Manila, of Filipino descent, impersonating a Japanese person during season 3. Anyways…
Season 5, Episode – Alyssa Edwards and Coco Montrese – In the workroom
Definitely one of the top 3 iconic Drag Race moments: "Look how orange you fucking look, girl!" Alyssa and Coco's infamous frenemy status came to blows when Alyssa playfully insulted Coco, to which she replied "Well, I'm not joking, bitch!"
Season 5, Episode – Alyssa Edwards and Jade Jolie – Untucked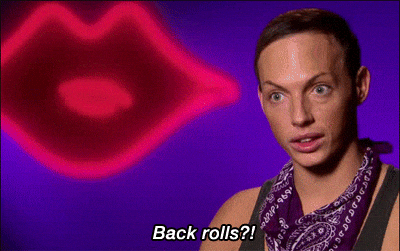 Another iconic Alyssa moment happened during an altercation with Jade Jolie during Untucked. After receiving some criticisms from Alyssa, Jade got her with 2 of the most iconic lines on drag race: "I would judge you on that body where those shoulders should match them hips, but they don't!" and "Girl, you had rolls all over in the back – it was disgusting!" Alyssa's reaction to these insults is what makes it so iconic. "Back rolls?!"
Season 5, Episode  7 – Roxxxy Andrews – Lip Sync
During a lip sync against Alyssa Edwards, Roxxxy pulled off her wig to reveal another wig underneath! Nobody was eliminated following the lip sync. RuPaul later commented that it was the best lip sync on the show ever! Do we agree?
Season 6, Episode – Laganja Estranja – Untucked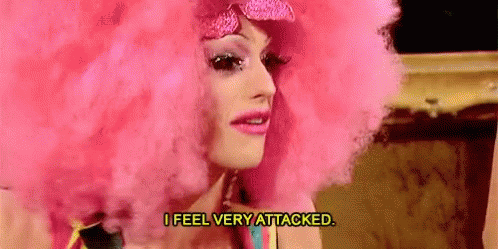 After making a mess of a challenge, and constant accusations from the other competitors and judges that she is putting on an act, Laganja finally cracked. Friend from before the show Adore Delano butted into the hysterical rant with: "I didn't want to make it so that everybody was attacking you!", to which Laganja replied: "Well, I feel very attacked!"
Season 6, Episode – Laganja Estranja and Joslyn Fox – Lip Sync
Laganja Estranja and Joslyn Fox were lip syncing for their life when they both fell/jumped into the splits at the exact same moment! These are the sort of moments that make lip syncs as incredible as they are.
Season 7, Episode 1 – Violet Chachki – Born Naked Mini Challenge 
Probably the most iconic 2-in-1 outfit ever in Drag Race History, Violet Chachki blew us all away with her Fall Reveal look. From black sequins to red tartan, it was simply breath-taking, and I can pretty much guarantee that you have seen this gif before.
Season 7, Episode 5 – Pearl – In the workroom
Pearl was having a little bit of an attitude problem for the first half of season 7,  and when Ru picked her up on it in the workroom, she only got sassier. When Ru implied that Pearl didn't have a very big personality, Pearl retorted "I think I have a great personality, actually." After a few more awkward back and forths, and a lot of staring each other out, Pearl just says "… do I have something on my face?" Iconic.
Season 7 – Violet Chachki – Death Becomes Her
A look that left guest judge Ariana Grande gagging, Violet's Death Becomes Her look was another of her many iconic moments on Drag Race. How did she breathe?! "I really could die, bitch, I'm giving you realness!" She had cinched her waist to just 18 inches.
Season 7, Episode 11 – Kennedy Davenport – Lip Sync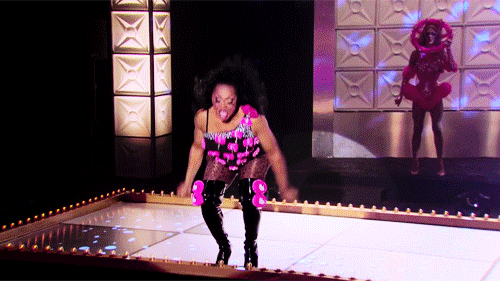 Kennedy Davenport is one of the best dancers to ever grace the runway of RuPaul's Drag Race, and during her lip sync against Katya on episode 11 of season 7, she confirmed this by jumping OFF the stage and into a split on the floor below. Amaze!
All Stars 2, Episode 1 – Tatianna – All Star Talent Show Extravaganza
For the All Star Talent Show Extravaganza, Tatianna opted for something a little different: spoken word. She slayed with her performance of The Same Parts which I implore you to watch right now. The same parts. The same parts. THE SAME PARTS.
All Stars 2, Episode 5 – Alyssa Edwards and Tatianna – Lip Sync Alyssa and Tatianna had to lip sync for their legacy to Shut Up and Drive by Rihanna, and they were so iconic that they were BOTH saved from elimination. Their looks and moves just complimented each other, and they even dropped into the splits at the exact same time unplanned! Iconic.
Season 8, Episode 3 – Robbie Turner – Lip Sync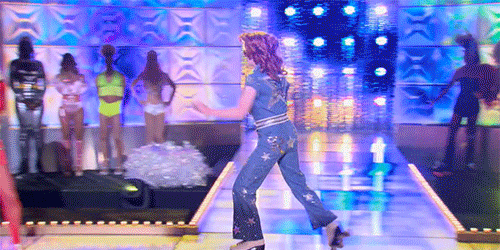 Having worn roller skates for the Roller Girl Realness runway theme, Robbie Turner left them on for his lip sync against Cynthia Lee Fontaine. And it was… incredible.
Season 9, Episode 3 – Aja – Untucked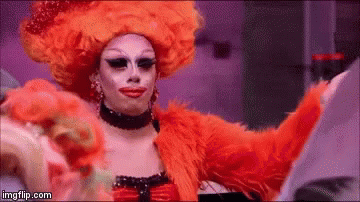 Aja was getting a little tired of Valentina's perfection and the judges eating her up every time. Her iconic sarcastic rant has been quoted umpteen times, both on and off the show… ""You're perfect. You're beautiful. You look like Linda Evangelista. You're a model." Not a fan, then?
Season 9, Episode 9 – Valentina – Lip Sync
Every week, the bottom 2 queens must lip sync in order to save themselves from being eliminated. This involves learning the lyrics to a different track each episode, and preparing a performance to go along with it. When Valentina found herself in the bottom 2 on episode 9, she left her mask on. A mask that covers her lips. Ru stopped the music and requested that she take it off. "I'd like to keep it on, please." It soon become apparent that she hadn't learned the words. Needless to say, she went home…
Season 9, Finale – Sasha Velour – Final Lip Sync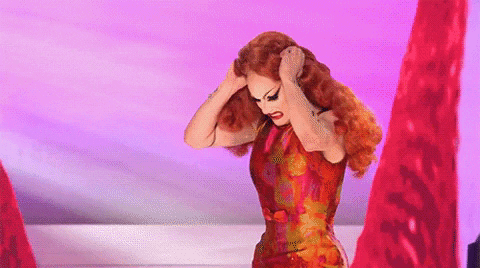 Sasha Velour is usually a bald queen, in tribute to her mother who died of cancer. During her final lip sync, she wore a wig… unusual for Sasha. Well, she ended by removing the wig for red flower petals to shower to the floor! Unprecedented, iconic.
All Stars 3, Episode 1 – Aja – All Star Variety Show
Another iconic death drop, I actually gasped watching this. It was from so high up! Bitch, is you ok?! The whole performance was simply outstanding, actually. Aja is such an underrated queen and I was so glad to see her come back for All Stars 3 following her short time finishing in 9th place on Season 9.
Season 10, Episode 4 – Monet X Change – Lip Sync
Ok, so… although several pretty incredible splits-moments during lip syncs have featured on this list, I think it's fair to say that we're all generally pretty over the "shock" move now, and it's become very expected and overdone. Well, Monet knows that too… and she hilariously included a nudge to this point during her lip sync against Dusty Ray Bottoms!
What are your favourite Drag Race moments so far?