Find out who likes to move it move it, and who likes to: lose it (the faith and continued support of the vegan consumer).
This week's vegan winners and losers – week beginning 10/09/18
Going up…
Waitrose
Waitrose have brought out a vegan ploughman's sandwich! That's right: not falafel, not sweet potato, not houmous… vegan cheese! Finally, something a bit more with the times. That's not to say we don't love falafel or sweet potato or houmous, because we do, but variety is the spice of life. And I used to love a ploughman's. There aren't many Waitrose stores up in't North, but if I do pop by one I'll be sure to give this new sarnie a go.
UrbanEat
Boom! Another vegan cheese ploughman's! This time, it's from UrbanEat who already have a fantastic vegan selection, imagination and labelling and all. I spoke about this sandwich when it was announced back in July, but it looks like it's finally hitting the shelves! The union shop at Leeds University stocks UrbanEat, so that's where I've seen them, but check out this tracker on their website to find out your nearest UrbanEat stocker!
LFW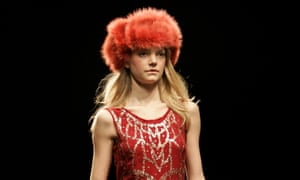 London Fashion Week have allegedly pledged to make next time's event completely FUR free! As always with such announcements, let's not forget the leather, wool, silk, and so on that will still slip through the many cracks… but it's a fabulous start. Fur is worn by beautiful animals, and ugly people.
Photograph: Dan Chung/Guardian
Pizza Express
On the 18th of this month, vegan pizzas by Pizza Express will be available to buy in supermarkets! Well, in Waitrose anyway. It's the Giardiniera pizza from their in-restaurant menu, topped with artichokes, spinach, red onion, mushrooms, passata, and vegan mozarella on a classic base. Rumour has it that there will also be some new vegan options available in their restaurants from the 12th…
Marston's
Marston's pubs have officially launched a brand new vegan menu which is packed full of exciting new choices for us herbivores. The NOMEAT menu even features the famed Moving Mountains B12 burger – just be sure it's not served to you on a brioche bun. Exciting times, think I'll walk to my local Marston's pub right now…
Burberry
Burberry specifically have vowed to stop using fur in their future lines and will be phasing it out of any current ones. That includes rabbit, fox, mink, raccoon, and angora. Unfortunately, they will still be using leather and sheepskin, of course, but it's a good start for sure. Burberry has also pledged to stop burning unsold merchandise which was done to protect the prestige and value of the brand.
Photo by Jo-Anne McArthur/SPCA Montreal
Marks and Spencer
It's another sandwich! And this time: it's festive. M&S have revealed some of their upcoming Christmas products via their Instagram story, one of which being a vegan "turkey" sandwich! Things really are getting exciting now! With cranberry and spinach on brown bread. Sounds like heaven to me. Joy to the world!
Oumph
Swedish brand Oumph are to launch their vegan oven pizzas in Tesco stores on the 16th of September. It will price at £3.99 (not cheap, not expensive IMO) and is topped with semi-dried tomatoes, rocket, Oumph soy chunks, and Violife cheese. With seasoning, of course! A nice alternative to a take-away.
Hellman's
Hellmann's are to launch their own vegan mayo in the UK, after it already successfully launched in America back in 2016. If you can't beat em… join em. Buzzin for it.
Going down…
Costa
Bloody Costa is up and down like a yo-yo on the vegan front, because they actually brought out a delicious looking vegan cookie this month – hoorah! However, they have changed their chai powder to chai syrup, and this new syrup contains honey. Meaning chai is no longer vegan at Costa! Boo, Costa, boo! Not "bee", Costa, BOO!